Since the first states voted to legalize recreational cannabis for adult use in 2012, the cannabis industry has experienced breakneck evolution as laws, norms, and consumer awareness continues to evolve. Yet while cannabis markets have been rapidly taking shape state by state, the marketing of weed products, services, and brands has been unable to keep pace.
The obstacle, of course, has been the continued federal classification of cannabis as a Schedule I drug. This reality has prompted both state regulatory agencies and individual advertising platforms to handle the question of cannabis marketing with strong caution. In the case of some of the largest digital players, they have decided not to handle it at all.
In addition to dealing with the complexity of each state's different regulations, cannabis entrepreneurs everywhere are also excluded from spending their marketing dollars through the modern advertising mainstays of Google, Facebook, Instagram, and Twitter.
While some brands roll the dice by submitting subtly worded ads to these networks in hopes that a few will slip by the moderators, most of the industry's marketing professionals have been left to experiment with a mix of traditional advertising methods, event sponsorships, influencer marketing, and ad buys through cannabis-specific publications. These options leave most brands overspending on ineffective advertising campaigns that lack a cohesive strategy and measurable ROI.
Luckily, as policy and public sentiment have tilted in the direction of widespread legalization, an increasing number of mainstream advertising platforms have become open to accepting cannabis and even CBD marketing dollars.
In fact, today cannabis professionals have more avenues available for advertising their products than ever before, particularly in the digital realm.
Where can cannabis be advertised?
Today, cannabis industry advertisers can easily run ads across hundreds of mainstream websites using programmatic advertising technology. For those unfamiliar with the term, programmatic advertising refers to the automated buying and selling of online ad space using programmatic technology.
Advertisers and their ad agencies use demand-side platforms (DSPs) to set the parameters of "bids" for certain ad impressions based on relevant attributes of the ad space and the viewer who will see it. Publishers put their ad space up for auction via supply-side platforms (SSPs), and ad exchanges play matchmaker to sell the ad impression to the highest bidder in the time it takes the web page in question to load.
Cannabis-specific DSPs work with other cannabis industry leaders to develop sets of data relevant to cannabis advertisers; they then open these data sets within their platforms to help cannabis advertisers reach known cannabis consumers.
A key thing to note is that the cannabis ads themselves no longer need to be shown exclusively on cannabis-specific sites and apps. In the past, digital cannabis advertisers were generally restricted to buying space on industry-specific sites like Leafly, High Times, and Weedmaps, which pushed prices up due to inventory limits and ran through ad budgets quickly.
Ad networks like Mantis attempted to compile this inventory to make the buying process more scalable, but because cannabis has been the fastest-growing industry in the United States since 2015, cannabis ad inventory has been insufficient to meet demand.
Now, the data sets available through programmatic advertising technology allow ads to be shown to the same cannabis enthusiasts across any website. This makes digital advertising far more affordable for cannabis marketers and allows for more advanced advertising techniques like building look-alike audiences, cross-device advertising, first-party data onboarding, and ad retargeting. These techniques can be used across all modern digital ad formats, including display, mobile, native, video, and digital audio.
Still, even those marketers who are already aware that they can advertise digitally outside of Facebook, Google, and cannabis sites may struggle with knowing what they can say and show in their digital ads, particularly if they intend to run those ads in multiple locations or across multiple channels.
Rules for cannabis ad compliance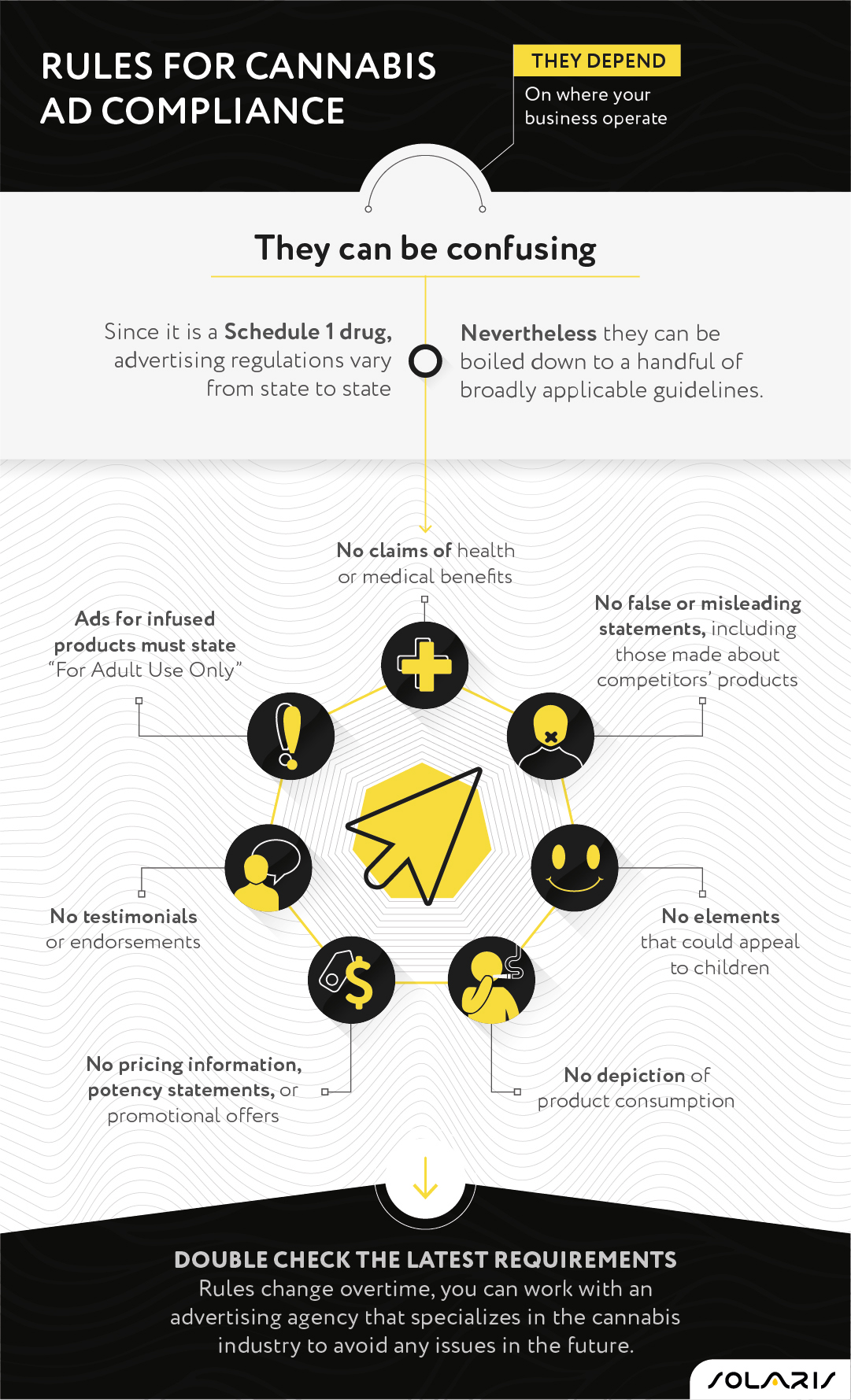 Because cannabis still has a federal classification as a Schedule I drug, current digital advertising regulations are governed by state cannabis laws, so they vary depending on where your business operates. This can become particularly confusing if you want to run digital advertisements visible to customers across multiple states.
Luckily, most cannabis bills are crafted to resemble those that have been passed successfully before them, which means that state laws can be boiled down to a handful of broadly applicable guidelines no matter where you intend to show your ads. The current best practices for advertising cannabis are as follow:
No claims of health or medical benefits
No elements that could appeal to children
No false or misleading statements, including those made about competitors' products
No testimonials or endorsements
No depiction of product consumption
No pricing information, potency statements, or promotional offers
Ads for infused products must state "For Adult Use Only"
Note that it is always important to double-check your state's most recent requirements, as local rules may change over time. If you are working with an advertising agency that specializes in the cannabis industry, they can help you with this process; cannabis-specific programmatic platforms like Safe-Reach will check your ad against local requirements as part of their approval process.
Advertising cannabis digitally
Prior to the advent of modern, cannabis-specific digital advertising technology, cannabis marketers were light years behind their mainstream industry counterparts in terms of the advertising channels they leveraged to get their message out. Traditional advertising tactics like billboards and print ad buys were popular among cannabis businesses early on due to the lack of digital ad publishers willing to work with them.
Currently, digital marketing spending is poised to surpass traditional spending for the first time in history. Together, these facts indicate that the future of cannabis marketing is digital. Yet with over half of digital advertising dollars spent through Facebook and Google, both of which reject even CBD ads, how can cannabis marketers expect to succeed through digital marketing?
The answer is by looking at the other half of the digital ad pool. Many working in cannabis have come to believe that because their Google and Facebook ads do not get approved, digital advertising is closed to them. However, other mainstream websites are willing to accept cannabis and CBD ad buys, including heavy hitters like ESPN, Huffington Post, Newsweek, Politico, Barstool Sports, Complex, The Chive, and USA Today.
In fact, digital advertising provides an ideal medium for compliant cannabis advertising, because modern ad targeting technology can leverage known user data to display ads directly to appropriate audiences, such as those 21 and over.
How is CBD advertising structured?
The 2018 Farm Bill legalized hemp-derived CBD products in the United States but did not offer guidance on selling, marketing, or advertising them. Most CBD products are thus sold and marketed in a legal gray area, which is only made more confusing by Facebook's and Google's policies of rejecting these as "illegal drug" ads (a policy both platforms enforce irregularly).
Although CBD brands should still try for approval, and some ads (especially those for hemp-derived CBD topicals) may be approved, CBD advertisers cannot rely on Facebook and Google for ongoing traffic, and ads may be taken down after initial approval regardless of legality.
That said, CBD business owners already have an even more extensive range of digital advertising options available outside of search and social than cannabis brands do. Some websites that do not yet accept cannabis ads will accept CBD ads, and mainstream ad tech platforms like the Trade Desk allow CBD ad buys as long as ad creative meets their internal guidelines for approval.
Thus, the de-facto rules and regulations governing CBD advertising today are made by the platforms and publishers running their advertisements. To ensure ad approval on programmatic platforms like The Trade Desk, CBD brands should follow the same guidelines listed for cannabis brands above.