Over the past decade, the legalization of marijuana has starkly expanded throughout the United States. Today, only 5% of the U.S. population lives in a state without any type of marijuana legislation
By legalizing both recreational and medical marijuana, states have opened up a new industry; one that people are clamoring to take advantage of.
Reading headlines about the cannabis industry, one might get the impression that cannabis business owners are all cashing out big. And while there are many success stories, high startup costs make the financial reality of opening a dispensary difficult for a lot of budding entrepreneurs.
But the growing demand for cannabis allows for a great opportunity, even in the most saturated markets. Retailers who want to compete with big-box stores should work smart, focus on creating a great store experience, and invest in cannabis tech that streamlines operations to reduce cost.
Learn your state's requirements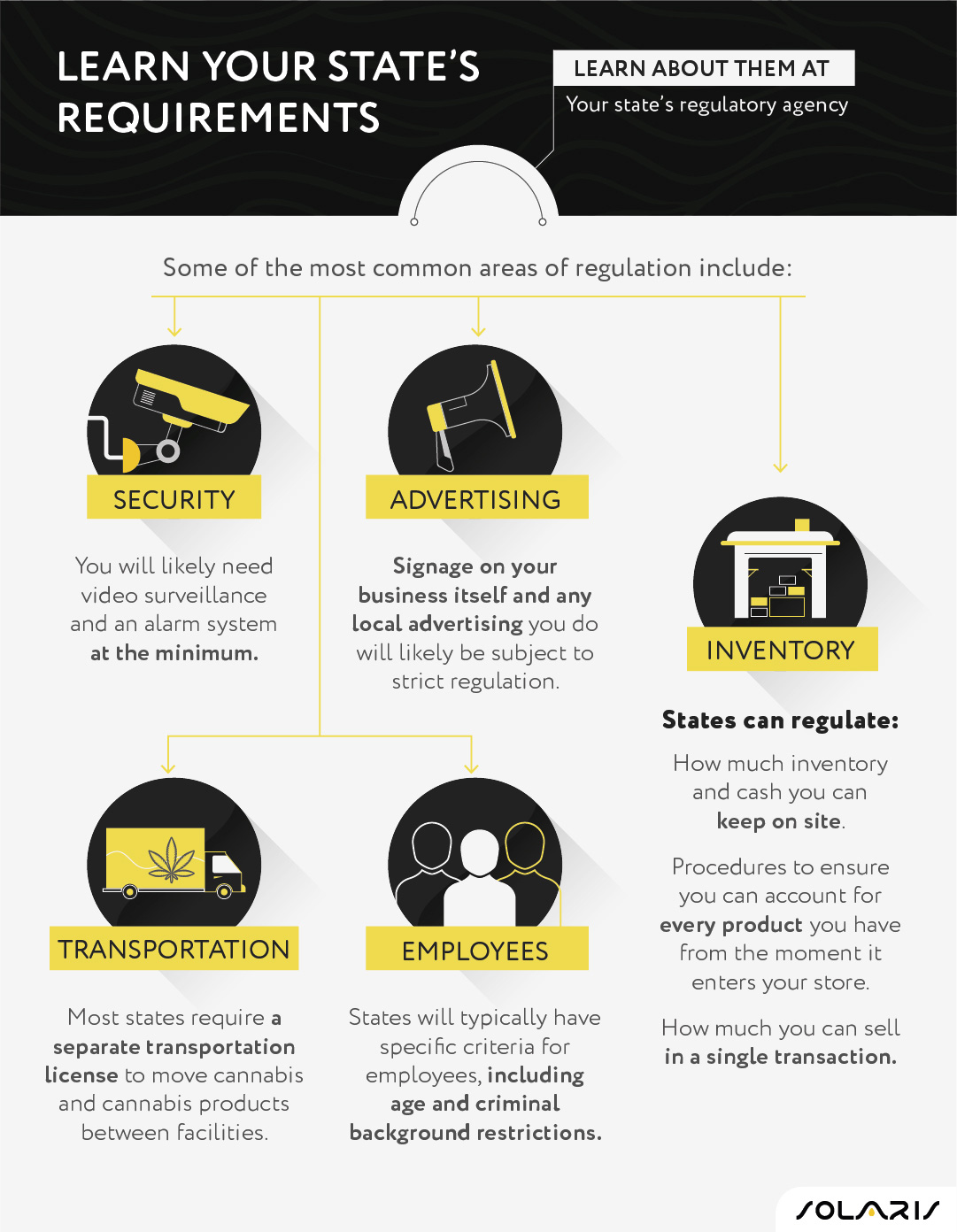 Your state's regulatory agency is a great place to start to learn about the many requirements for a retail marijuana store. However, the requirements can easily be a bit overwhelming at first. Some of the most common areas of regulation you will need to consider include:
Security: There are typically strict security requirements for retailers. Neither you nor the state wants to see your business get robbed. You will likely need video surveillance and an alarm system at the minimum.
Advertising: Signage on your business itself and any local advertising you do will likely be subject to strict regulation. In Michigan, for instance, municipalities are free to establish reasonable restrictions on public signage for marijuana businesses.
Inventory: There will likely be limits as to how much inventory and cash you can keep on site. There will also be specific procedures to ensure you can account for every product you have from the moment it enters your store. There will be limits on how much you can sell in a single transaction and sometimes daily or monthly purchasing limits that will require customer tracking.
Transportation: Getting the product to your store from processors is another issue as well. Most states require a separate transportation license to move cannabis and cannabis products between facilities.
Employees: States will typically have specific criteria for employees, including age and criminal background restrictions. There may be specific training requirements as well.
Application
The first step in opening a marijuana dispensary is securing a dispensary license. To do this, you must complete a proper application. The fee for submitting the application is non-refundable. It will cost you anywhere between $2,500-$5,000, depending on which state you are applying in and whether or not you qualify for the state's social equity program. Depending on how you complete your application will add to your start-up fees as well.
Hiring an experienced team of consultants to assist with the application process will boost your chances of winning a license.
Licensing
If your application wins, a license will cost you as well. The first step in opening a dispensary is getting a license. The licensing process, which varies based on location, is extensive and expensive. Expect to undergo thorough background checks and spend at least $5,000 on licensing fees.
In places like Washington, the number of licenses granted by the state is capped to a predetermined number. This can run between $25,000 and $60,000 for two years, or $30,000 if you meet the Social Equity criteria.
Due to the high demand for a license, those who hold them are required to pay an annual renewal fee. For example, dispensary owners who are residents of Nevada have to pay $3,000 annually to renew their licenses. At the same time, those in Connecticut are required to pay $75,000 for renewal in addition to the $25,000 initial application fee and $75,000 registration fee.
Picking a location
Next, you need to find the right location for your business. The most important part of picking a location for your dispensary is picking a place that adheres to the regulations and rules of your state or city.
For example, in Colorado, a dispensary cannot be within 1,000 feet of a school. There are similar regulations about a dispensary's proximity to schools, residential areas, parks, and libraries, so make sure you know the regulations and pick a spot that adheres to the rules.
You will also need to choose between owning and leasing a building. If you decide to buy a property outright, business owners can choose to do what they want with the space.
Under leases, however, dispensaries may be subject to more scrutiny and outright denial from property owners. If you do rent, it is critical that you disclose your intended use of the property beforehand in order to avoid long-term legal trouble down the road.
Creating an atmosphere
Long gone are the days of the classic headshop where a little incense and some Bob Marley were all that was needed to create a vibe. Now, every decision a cannabis retail owner makes from the way the shop is decorated and organized, to how staff engages with customers, ultimately helps shape an atmosphere that must be able to appeal to clients while also staying authentic to your brand.
Take inspiration from other local businesses that are already successful with the target demographics you want to serve. By creating an ambiance that puts people at ease, you can help move people away from the negative stigma sometimes associated with cannabis.
For example, The Sanctuary is a dispensary in Las Vegas, Nevada. They curated their dispensary around a welcoming and peaceful vibe, with a clean and professional aesthetic. Something like this assures people that the product they get is coming from a legit source.
It is a good idea to furnish your space with eye-catching artwork that can represent the creative inspiration from cannabis. You can also go with a more natural feel, with plenty of plants and exposed wood. The point is to create a space where every customer will feel welcome and comfortable.
Do not assume décor begins and ends with visuals; music is a core component of most places known for their great aesthetics.
Advertise your dispensary's grand opening
Once you have all the hard stuff out of the way, come up with a plan for your pre-opening marketing and grand opening.
Start by getting your store listed on all necessary websites, including any specifically related to dispensaries. But certainly include Yelp, Facebook, Google My Business, etc. These are so critical for growing brand awareness and image. They also make it easy for prospective customers to find your store and any basic information like reviews, pricing, hours, etc.
Turn your opening day into an event that offers your first-time shoppers a great deal. You want to thank those who show up on the first day, draw a big crowd, and also encourage them to come back soon.
Build a website
Finally, it is important to focus on building a great website for your store. The sleeker the better, but more importantly it should at least provide basic information about your products and store information.
Set up online menus that allow remote shoppers to pre-order items. This lets them order something online and pick it up at a later time. It adds convenience to the experience, allowing them to skip lines.
The online menu should integrate with your POS inventory management so that all inventory listed on the site as "in-stock" is accurate.