With the growing popularity of cannabis legalization for medical and recreational uses, some great opportunities are emerging for lucrative businesses in the cannabis industry.
Despite the legality of cannabis products in many states across the country, the federal government still considers the sale, purchase, or use of cannabis products to be illegal. This means that obtaining a loan can be difficult because federal banking laws consider banks that offer cannabis business loans to be open to prosecution.
Trouble is, banks are risk-averse. This means that Federal Deposit Insurance Corporation (FDIC) banks will most frequently deny all weed-related business loans. Even opening a business checking account is not easy and only local credit unions are willing to do it.
Without the help from banks and equity financing, many face the question:
"Where should I go for cannabis financing?"
Alternative lenders have filled the void by providing cannabis business loans. Many participate in online lending, making financing simple and quick. As they are not backed by banks or the federal government, alternative lenders are not beholden to the same rigid regulations.
Financing options for cannabis businesses
There are two main types of financing options available to cannabis business owners: debt funding and equity funding. Debt funding generally involves financing your business through either taking out loans or using a business credit card. The lender is then paid back the original loan amount plus interest.
Equity funding involves offering shares of the company in exchange for capital. The investor receives their money back in the form of dividends or profit when the business is sold. Since equity funding assumes that the company needing working capital already exists and holds value, debt funding through loans and credit is the method most cannabis business owners will need to use to fund their businesses at the beginning.
Loan options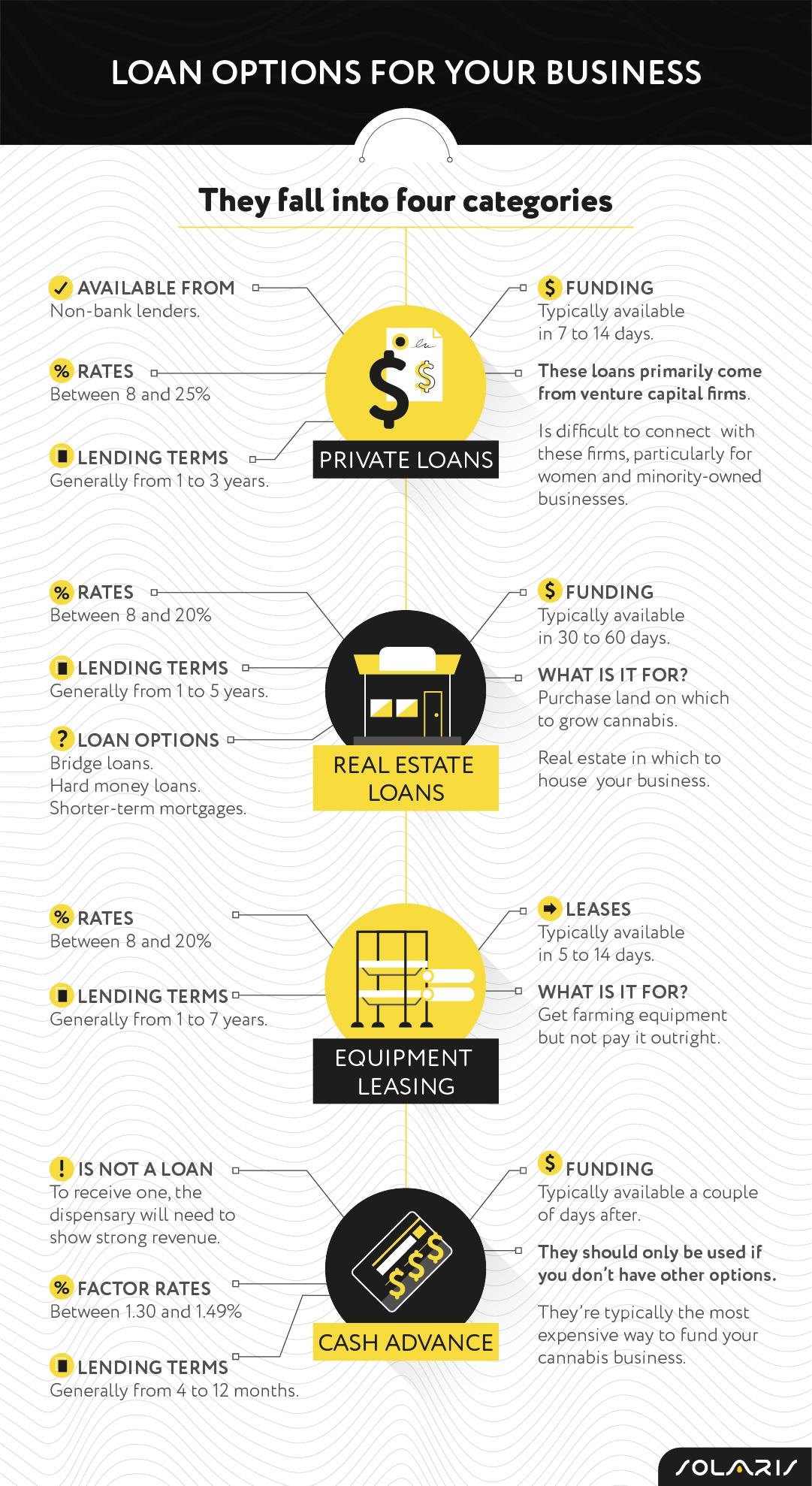 Cannabis business and dispensary loans generally fall into four different categories: private loans, real estate loans, equipment leasing loans, and dispensary cash advances.
Private loans
Private loans are available from non-bank lenders and typically come with rates of between 8 and 25 percent. Lending terms are generally from one to three years, and funding is typically available in seven to fourteen days.
In general, lenders prefer to focus on business funding the growers and manufacturers of cannabis products rather than funding the dispensaries themselves, although exceptions can be made for companies with proven revenue. Private loans primarily come from venture capital firms, which can be problematic because of the difficulty in connecting with these firms, particularly for women and minority-owned businesses.
Real estate loans
If you are looking to purchase land on which to grow cannabis or real estate in which to house  your business, a real estate loan may make the most sense for you. Bridge loans, hard money loans, and shorter-term mortgages are all available to cannabis companies and medical marijuana dispensaries.
Interest rates typically range from 8 to 20 percent and terms are 1 to 5 years in length. Funding takes approximately 30 to 60 days to obtain from the time of application.
Equipment leasing
Special financing is also available specifically for growers who need to purchase farming equipment. Equipment leasing is a popular option for growers who need equipment but do not want to purchase it outright. The leases typically hold interest rates of between 8 and 20 percent and are funded over 1 to 7 years. Leases are available in 5 to 14 days.
Cash advance
It can be difficult for dispensaries to find funding, so cash advances are sometimes the most viable option. Cash advances are not a loan, and to receive one, the dispensary will need to show strong revenue. Factor rates vary from 1.30 to 1.49, and terms vary from 4 to 12 months.
Funding is received quickly, typically in just a couple of days, so if you need quick cash on a short-term basis, it may be a good option. However, cash advances are typically the most expensive way to fund your business, so they should only be used if you do not have other options.
What type of information is needed to apply for a loan?
Cannabis lenders might be focused on a non-traditional industry, but they are still businesses, which means your finances will need to be in order when you apply for a loan.
Your lender will want to review your financial records (balance sheets, income statements, and bank statements), your credit risk profile, and capital needs. Lenders who cater to the cannabis industry may also want to review a list of your key management personnel and a list of all active cannabis licenses held.
What is inventory financing?
Inventory financing is a short-term loan that is backed by assets, specifically, your business's inventory. Inventory financing is beneficial because it helps balance out your business's cash flow and provides funds that can be used to purchase more inventory or pay for other expenses.
By having your lender pay your vendors directly, you can get cash-on-delivery (COD) pricing, helping you save money and grow your business. Inventory financing is an excellent option for cultivators, distributors, manufacturers, cannabis brands, dispensaries, and ancillary cannabis companies that are looking for flexible financing that can help build strong vendor relationships and demand lower prices.
Under the inventory financing model, vendors are paid directly and interest only accrues when you use the funds, which can be borrowed for up to 90 days. Fees are approximately 2.5 to 3.5 percent of the invoice amount and are assessed every 30 days. The steps of inventory financing are as follows:
Vendor ships the product to the business owner and issues an invoice due in 30 days. The business owner requests financing.
The lender sends an advance of the entire invoice amount to the vendor.
The business owner sells the final product.
The business owner pays the invoice amount plus accrued interest and fees to the lender.
Which type of funding is best for you?
The type of funding that is best for your business will depend on a variety of factors, including:
Your specific involvement in the cannabis industry (distributor, manufacturer, cultivator, dispensary, etc).
Your business model.
The amount of money you need to borrow.
How often you need access to capital.
Your expected loan term.
Your credit risk profile.
As a cannabis business owner, regardless of which type of funding you choose, you will want to make sure to work with a lender that can assure 100 percent compliance in this rapidly growing and changing industry.
Business loans for selling CBD
These regulations do not only apply to weed businesses but across the entire cannabis industry.
As a result of the 2018 Farm Bill being passed, CBD became federally legal. However, it was not a simple or clean transition. Policymakers and financing companies alike are still working to read between the lines and come to a consensus regarding whether or not it is possible to get a bank loan for a CBD business. On paper, CBD and hemp businesses are legal but the lack of a clear definition and guidelines are holding these businesses back.
Regardless of what the future holds, even if banks could issue cannabis loans, they may not always be the best option. Cannabis entrepreneurs will still have to contend with the difficulty that business owners often face when dealing with banks.
First and foremost, there is no guarantee they will be getting the best deal. Banks are notorious for inconveniencing business owners by taking forever to issue financing. There is often a several-month waiting period, and no guarantee they will eventually qualify. Not to mention, hours worth of clerical work that simply comes with the territory.
Given the fast pace of the industry, speed is the name of the game. Waiting around for too long to receive your cannabis business loan could mean allowing another business to nab your idea first, and disrupt the market before you have a fighting chance.
The evolution of cannabis financing
In addition to the efforts by local governments, regulations surrounding cannabis business loans are shifting as fast as the cannabis industry is growing. As of December 2019, legislation had passed through the House of Representatives that would ensure that financial institutions could legally participate in the cannabis industry, called the "SAFE Banking Act."
On March 28, 2019, the Financial Services Committee voted 45 to 15 to advance the bill to the full House. The bill had bipartisan support, and there were 152 cosponsors at the time of the committee vote; over a third of the entire House.
The "SAFE Banking Act" provisions were included in the "HEROES Act COVID-19" relief bill passed in the U.S. House in May 2020. They were again included in a bill approved by the house 214–207 in October. A push to include the "SAFE Banking Act" provisions in the end-of-year COVID-19 stimulus failed, though hope remained it could pass in 2021 if reintroduced.
If this legislation gets passed, entrepreneurs would be able to access cannabis business loans for startup funding, cash flow management, and one-off investments that running a cannabis business often necessitates. Plus, they would be able to avoid the downsides of venture capital, including ownership dilution and biased gatekeepers.